Candela C-8 t-top
Stylish Shade, Uncompromised Thrills
Experience the T-Top Difference
Designed with both style and functionality in mind, the C8 T-Top boasts sleek lines and premium materials that seamlessly blend into the yacht's overall aesthetics. Its elegant contours and attention to detail elevate the yacht's appearance, turning heads wherever you sail. The T-Top's intelligent design not only adds a touch of sophistication but also complements the exceptional performance of the C8.
The T-Top of the Candela C8 is meticulously crafted to provide optimal sun coverage, shielding you and your guests from the sun's harsh rays. Whether you're embarking on a leisurely cruise or indulging in thrilling water adventures, the T-Top offers a welcome retreat, allowing you to relax and enjoy the journey without compromising on comfort.
Built using lightweight carbon fiber, the C8 T-Top exemplifies strength and durability while minimizing the yacht's weight. Carbon fiber's exceptional properties enhance the yacht's agility, speed, and fuel efficiency, ensuring a thrilling and eco-conscious adventure on the water. This advanced construction material also lends an air of sophistication to the C8, further elevating its appeal.
Embark on an extraordinary journey with the Candela C8 T-Top, where luxurious comfort and sun protection merge seamlessly. Revel in the shade provided by the T-Top while experiencing the exhilaration of electric hydrofoiling and the unmatched elegance of carbon fiber construction. Discover a new standard of yachting with the Candela C8 T-Top and let every voyage be an unforgettable blend of style, performance, and refined luxury.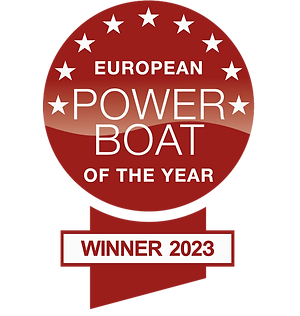 EUROPEAN boat OF THE YEAR 2023
| | | |
| --- | --- | --- |
|   | Draft (Foiling) | 0.50m |
|   | Draft (Off Foils) | 1.50m |
|   | Weight | 1600kg |
|   | Capacity | 8 Persons |
|   | Berths | 2 Persons |
|   | Classification | CE (C) |
|   | Hull Material | Carbon Fibre |
|   | Power | Polestar 2 – 69 KWh Battery |
|   | Propulsion | Patented C-POD |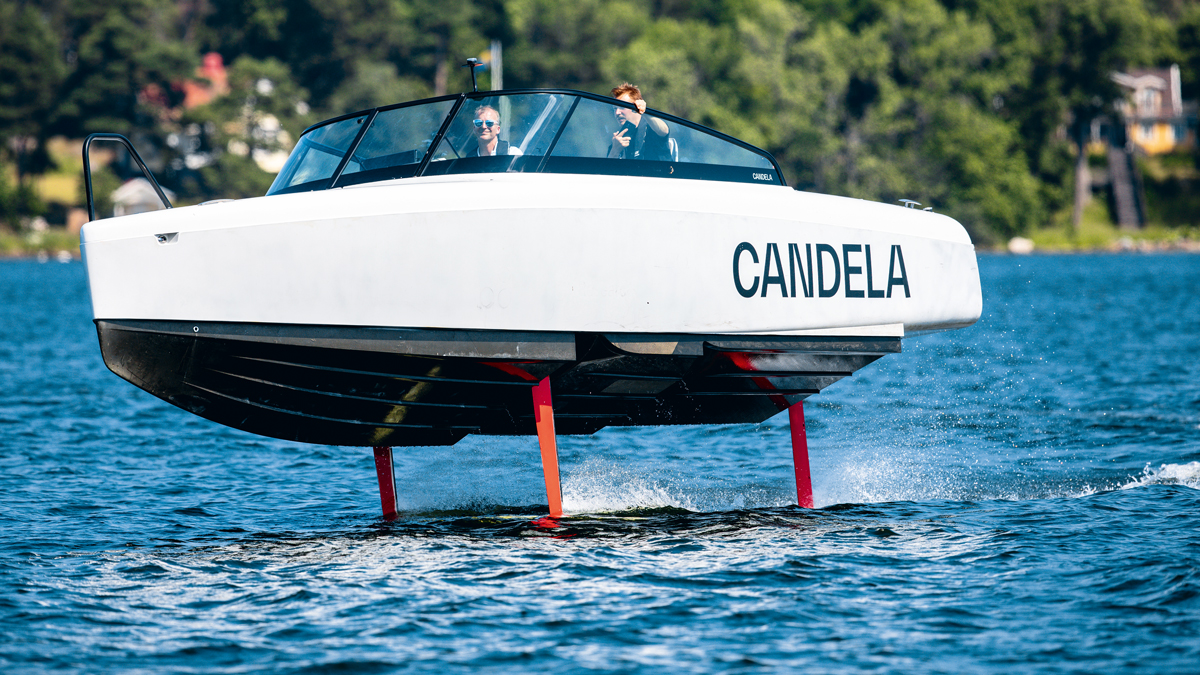 While most seek thrills in sports cars or new hobbies during their mid-life, Gustav Hasselskog, the founder of Candela, chose a different path. His journey from a management career to revolutionizing eco-friendly boating is not just inspiring but a testament to innovation and determination.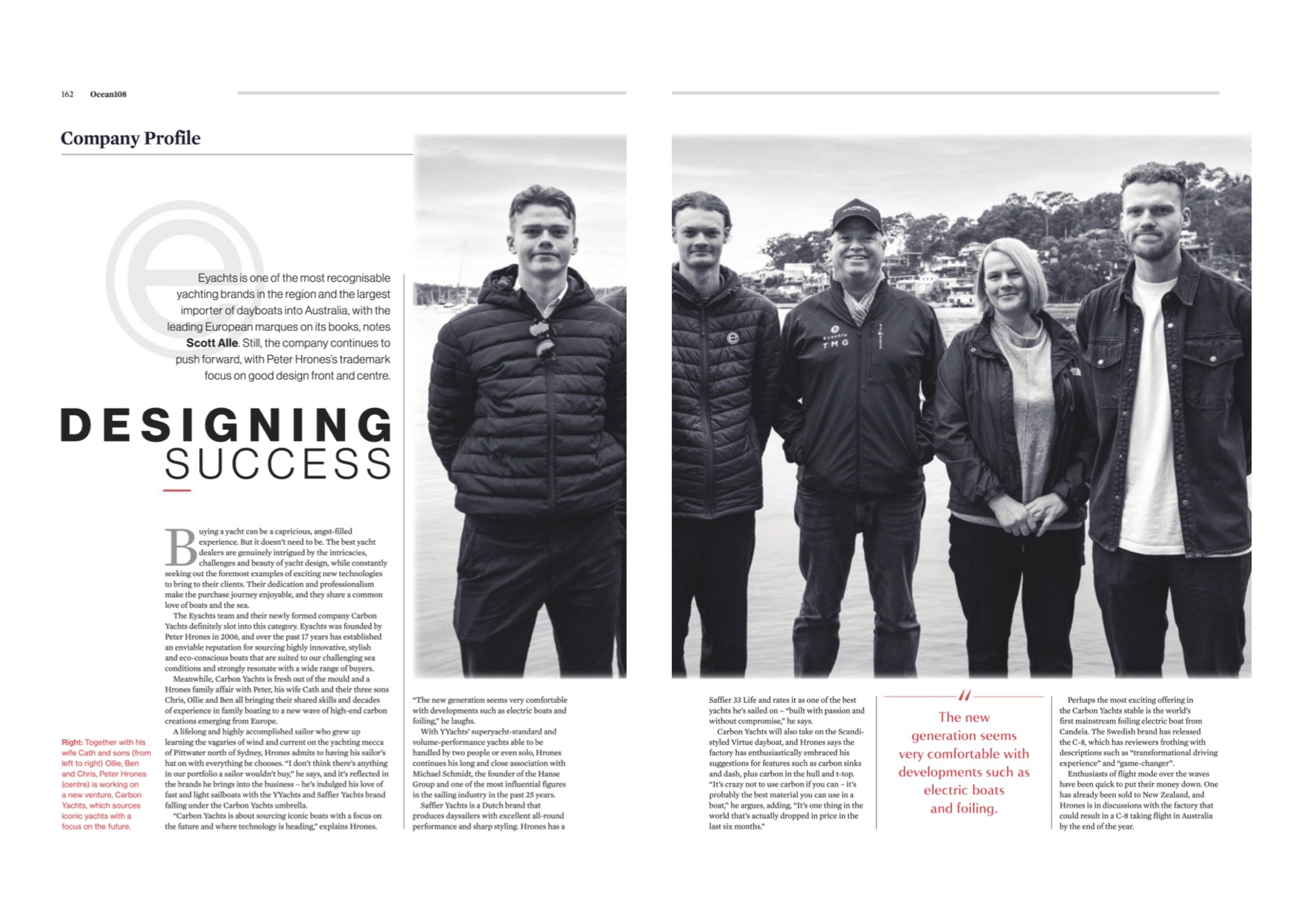 Ocean Magazine – September 2023
Together with his wife Cath and sons Chris, Ben and Ollie, Peter Hrones is working on a new venture, Carbon Yachts, which sources iconic yachts with a focus on the future.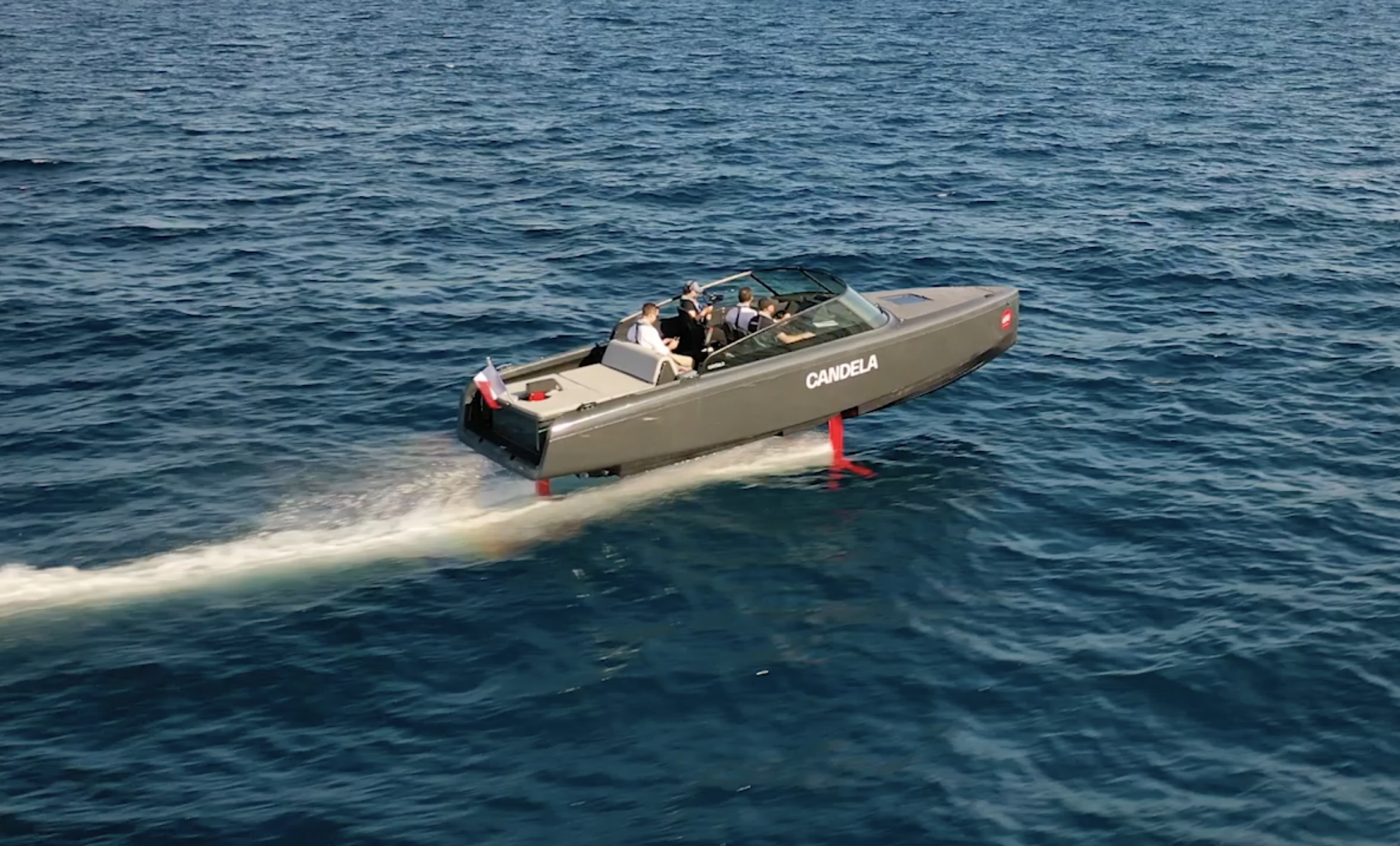 Joe and Rowan, bring you with them on an exclusive Candela C8 test flight at the 2023 Cannes Yachting Festival, where the electric marvel dazzles against the backdrop of Cannes' azure waters, the C8 not only demonstrates its elegance and prowess but also solidifies its status as the European Boat of the Year 2023.
Enquire Now
Leave your details and a member of our expert team will contact you shortly about Candela.