Saffier SE 24 Lite
fully powered by NATURE
A sailing yacht that is in full content with the environment of today.
Experience the joys of sailing with the Saffier 24, a blend of modern design and impeccable functionality. This vessel showcases a sleek hull with distinctive water- and cove lines, complemented by a clean, anti-slip deck. The spacious cockpit is tailored for comfort, seating six and enabling solo sail control by the helmsman. With the ease of a self-tacking jib and an efficient below-deck furling system, setting sail is a breeze. Dive into sustainability with the Saffier 24's green pedigree. Powered by an electric Torqeedo Pod, it ensures silent, eco-friendly cruising, while its integrated solar panel system epitomizes self-sufficiency, reducing your carbon footprint. A comfortable cabin awaits beneath, making overnight adventures serene. Embrace an eco-conscious sailing experience without compromising luxury or performance with the Saffier 24.
And last but not least, the ultimate sailing experience, single-handed, with family or racing at full speed. Meet the new great-looking Saffier Se 24 Lite.




| | |
| --- | --- |
| Draft | 1.15/1.44 m (race) |
| Weight Keel | 450 kg |
| Mainsail | 20 m² |
| Self-Tacking Jib | 11 m² |
| Jib 110% | 12.5 m² |
| Genaker | 48 m² |
| Code Zero | 41 m² |
| Engine | Torquedo CE POD (electric) |
| Trailerable | Yes |
| Berths | 2 |
Introducing the New Saffier SE 24 Lite
 Saffier SE 24 Lite Explained
First Sailing Video – Driven By Nature
Join us at Carbon Yachts as we recount a memorable day on Pittwater with Joe and Bianca Aboard the Saffier SE 33 Life 'Azure'...
Join Mark Rothfield on Club Marine TV as he navigates the waters of Pittwater aboard the azure-hued Saffier SE 33 Life. An insightful video that takes viewers on a journey, showcasing the yacht's exceptional capabilities and luxurious design.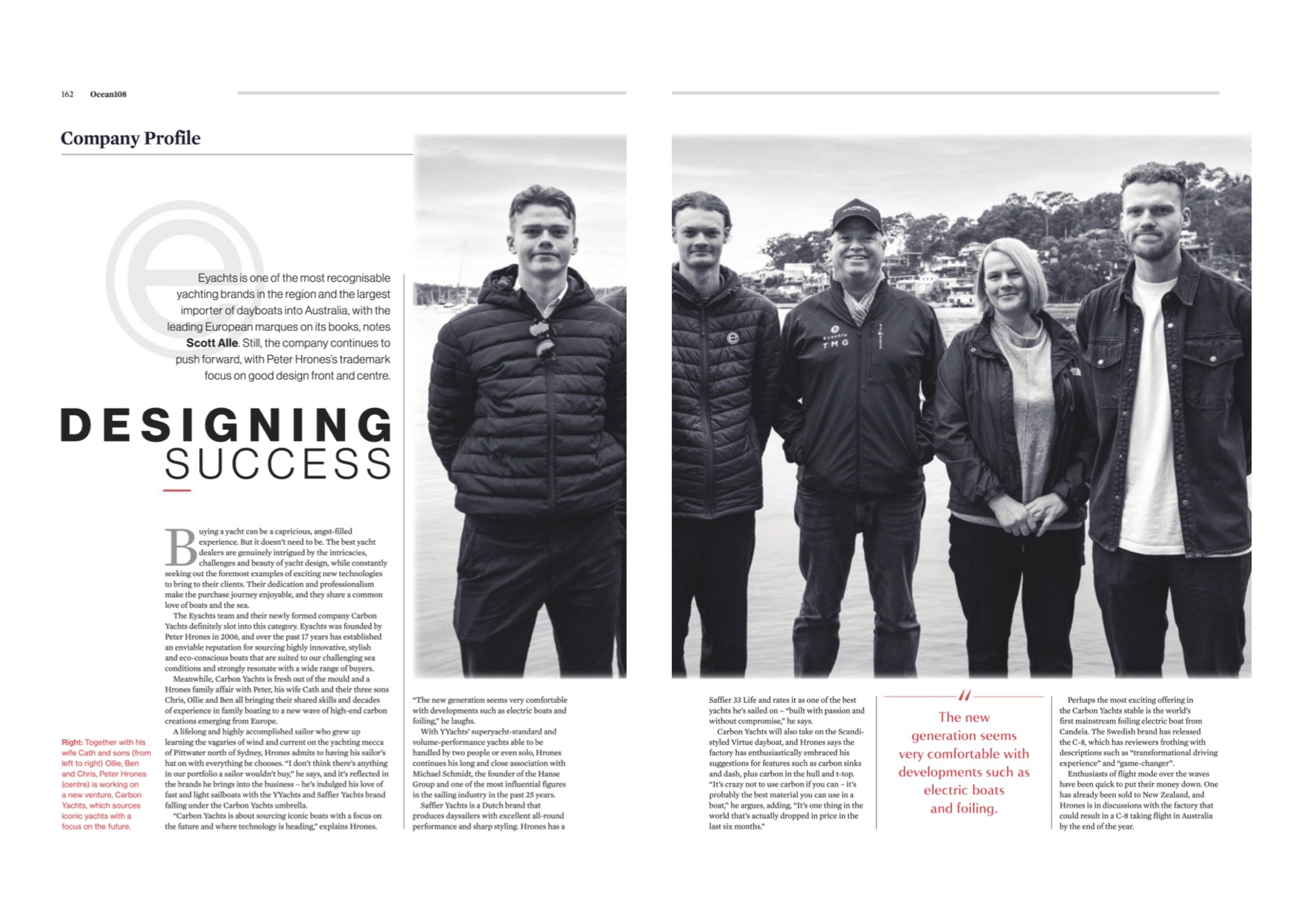 Ocean Magazine – September 2023
Together with his wife Cath and sons Chris, Ben and Ollie, Peter Hrones is working on a new venture, Carbon Yachts, which sources iconic yachts with a focus on the future.
Enquire Now
Leave your details and a member of our expert team will contact you shortly about Saffier Yachts.