Saffier SC 8M Cabin
Comforting, relaxing and seaworthy
One with the elements
The Saffier Sc 8m Cabin offers a variety of opportunities. Unlimited sailing areas, from lake, river or sea, a large ergonomic cockpit and interior fit for 4 adults. All this with the well-known sailing qualities of the Saffier Yachts brand and built with the latest technologies.
The Sc 8m Cabin is designed for people who like sailing close to the water instead of high on top, the feeling that you are one with the elements. Former dinghy sailors who want to keep just that feeling but with the comfort of a toilet and cooking facilities, a seaworthy cockpit, lots of space inside and a Yanmar diesel engine or Torqeedo electric engine will certainly appreciate this design.
Just as all the other Saffier Yachts the Saffier Sc 8m Cabin can be controlled by one person – on engine or while sailing. The reason why is that the controls for the engine, but also the sheets and halyards of the sails are all in reach of the helmsman who can stay safe in the cockpit while trimming and adjusting the sails. The self-tacking jib makes tacking or gybing a maneuver in which the helmsman can decide when to perform without asking his crew to move around in the cockpit. Your family will find the high stability, spacey room inside and functionality of this weekend sailer comforting and relaxing.
The Saffier Sc 8m Cabin is seaworthy, self-righting and has a self-draining cockpit. And when you really want to explore, the Saffier Sc 8m Cabin is easy to trailer behind the car to any destination you want.




| | |
| --- | --- |
| Draft | 1.0.3/1.30 m |
| Weight Keel | 760 / 720 kg |
| Mainsail | 20 m² |
| Self-Tacking Jib | 10.85 m² |
| Jib 110% | 16 m² |
| Genaker | 45 m² |
Join us at Carbon Yachts as we recount a memorable day on Pittwater with Joe and Bianca Aboard the Saffier SE 33 Life 'Azure'...
Join Mark Rothfield on Club Marine TV as he navigates the waters of Pittwater aboard the azure-hued Saffier SE 33 Life. An insightful video that takes viewers on a journey, showcasing the yacht's exceptional capabilities and luxurious design.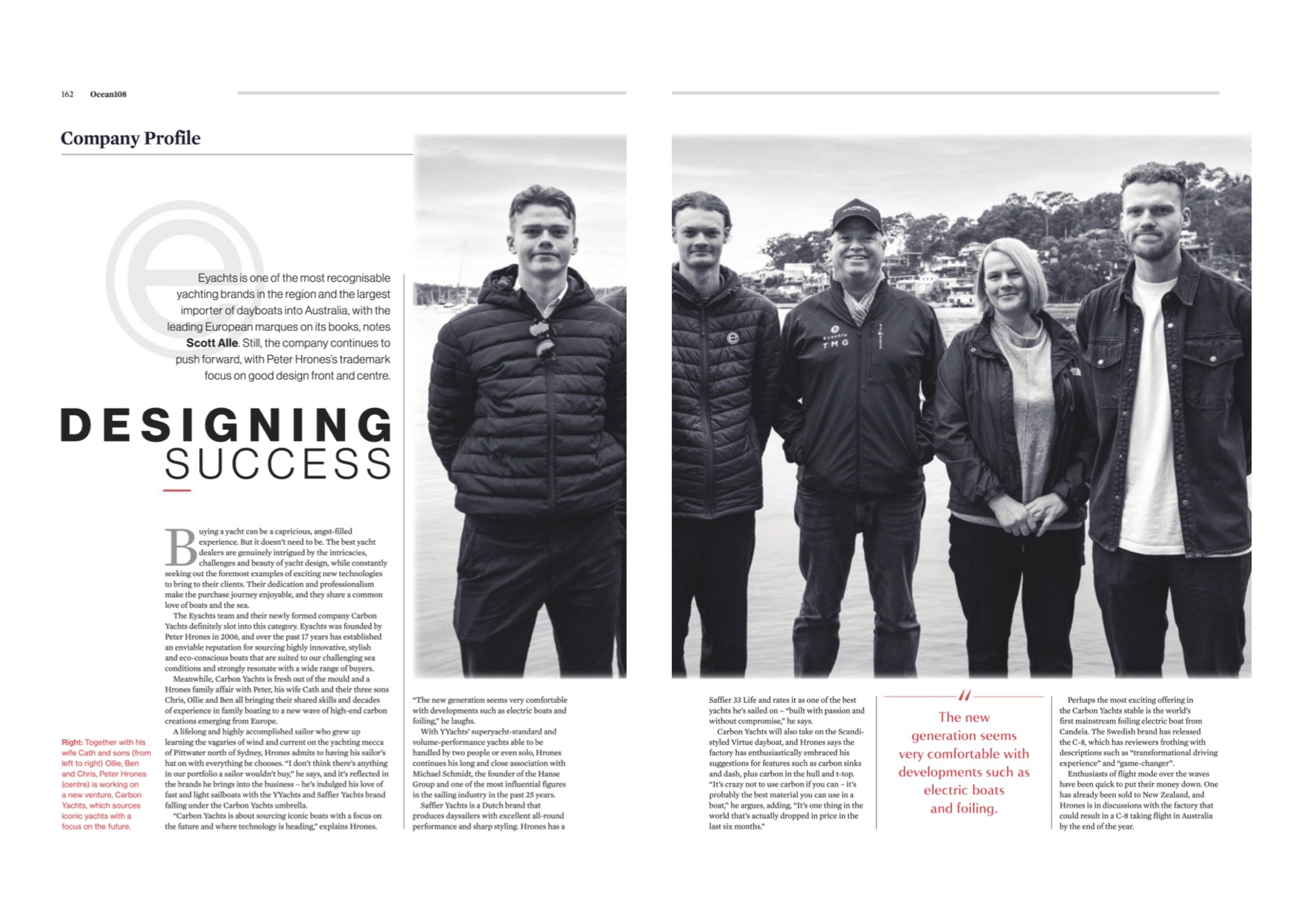 Ocean Magazine – September 2023
Together with his wife Cath and sons Chris, Ben and Ollie, Peter Hrones is working on a new venture, Carbon Yachts, which sources iconic yachts with a focus on the future.
Enquire Now
Leave your details and a member of our expert team will contact you shortly about Saffier Yachts.