Candela C-8 Day Cruiser
The ultimate day cruiser reimagined
Cruise in Silence, Cruise in Style
Introducing the Candela C8 Day Cruiser, a marvel of modern engineering and design that combines exceptional efficiency with uncompromising elegance. Step aboard and embark on a transformative journey, where sustainable boating meets luxurious comfort.
At the heart of the Candela C8 Day Cruiser lies its revolutionary hydrofoiling technology, which lifts the yacht's hull above the water, dramatically reducing energy consumption and ensuring a smooth, noise-free ride. Powered by an advanced electric propulsion system, this zero-emission marvel allows you to explore the waterways with a clear conscience, leaving only a minimal environmental footprint in your wake.
The Candela C8 Day Cruiser not only offers sustainability but also exudes an undeniable sense of style. Crafted with meticulous attention to detail, its sleek lines and sophisticated aesthetics turn heads wherever you go. Whether you're cruising along the coastline or exploring hidden coves, the Candela C8 Day Cruiser effortlessly combines performance and elegance for a truly unforgettable experience.
Step into the spacious and beautifully appointed interior, where luxury meets practicality. The open layout invites you to relax and unwind, surrounded by premium finishes and cutting-edge amenities. The thoughtfully designed cockpit provides intuitive controls and seamless connectivity, putting you in command of your journey.
With an impressive range and a top speed that defies conventional boating norms, the Candela C8 Day Cruiser offers a new level of freedom and exploration. Discover secluded bays, enjoy thrilling water sports, or simply revel in the tranquility of nature—all while embracing sustainable yachting.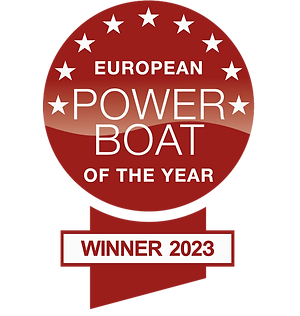 EUROPEAN boat OF THE YEAR 2023
| | | |
| --- | --- | --- |
|   | Draft (Foiling) | 0.50m |
|   | Draft (Off Foils) | 1.50m |
|   | Weight | 1600kg |
|   | Capacity | 8 Persons |
|   | Berths | 2 Persons |
|   | Classification | CE (C) |
|   | Hull Material | Carbon Fibre |
|   | Power | Polestar 2 – 69 KWh Battery |
|   | Propulsion | Patented C-POD |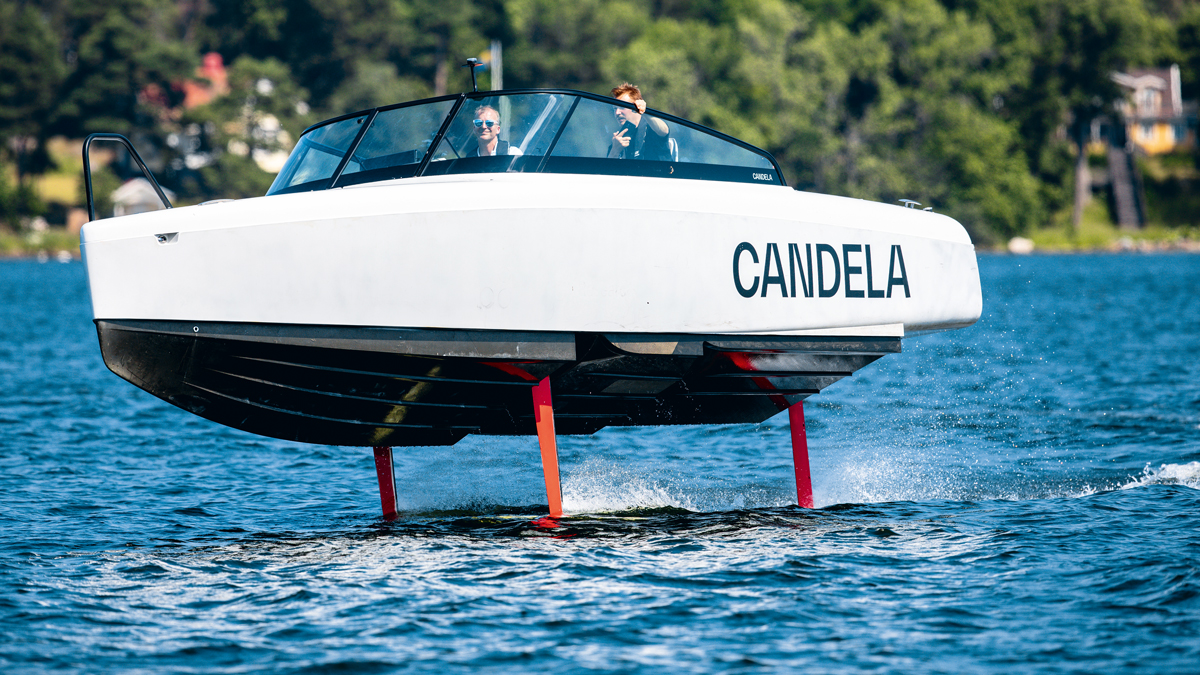 While most seek thrills in sports cars or new hobbies during their mid-life, Gustav Hasselskog, the founder of Candela, chose a different path. His journey from a management career to revolutionizing eco-friendly boating is not just inspiring but a testament to innovation and determination.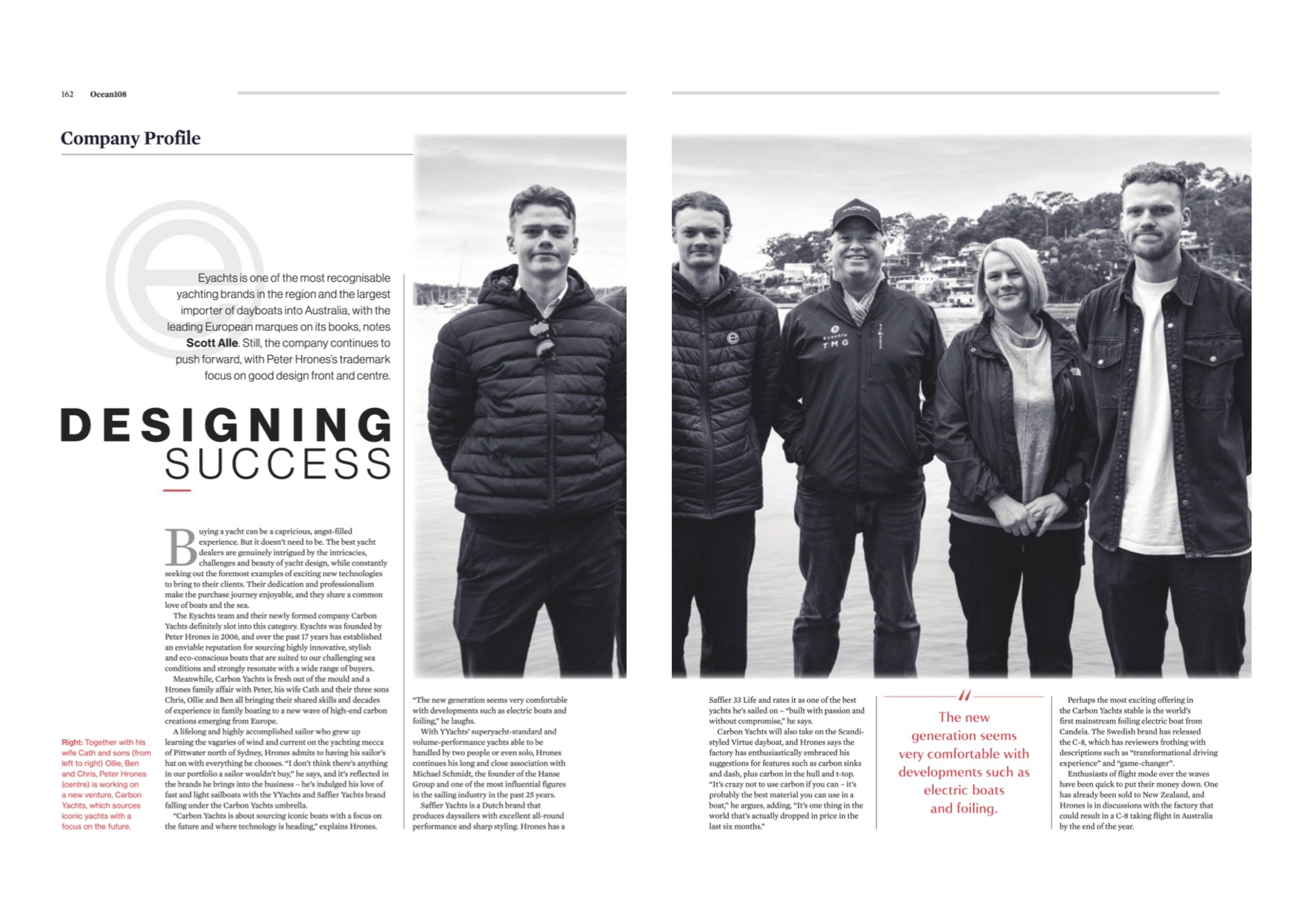 Ocean Magazine – September 2023
Together with his wife Cath and sons Chris, Ben and Ollie, Peter Hrones is working on a new venture, Carbon Yachts, which sources iconic yachts with a focus on the future.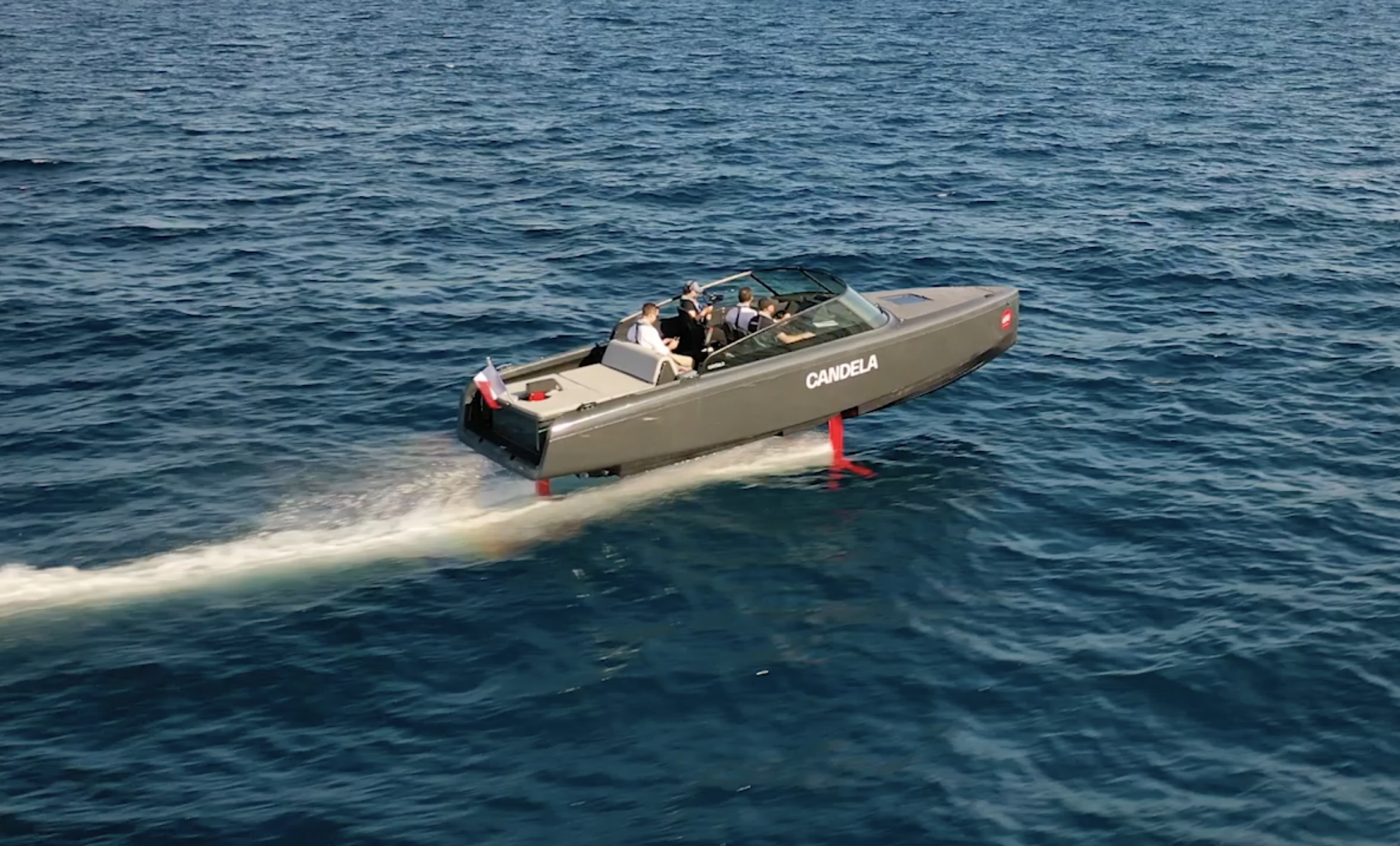 Joe and Rowan, bring you with them on an exclusive Candela C8 test flight at the 2023 Cannes Yachting Festival, where the electric marvel dazzles against the backdrop of Cannes' azure waters, the C8 not only demonstrates its elegance and prowess but also solidifies its status as the European Boat of the Year 2023.
Enquire Now
Leave your details and a member of our expert team will contact you shortly about Candela.