Saffier SE 33 Life
A new philosophy of high-end dayboating.
Built to Celebrate Life
The Saffier Se 33 Life is designed to celebrate life with your friends and family in the large cockpit, whilst giving you the ability to sail single-handed. In the utmost comfort, sail at high speeds with the latest hull design and vacuum-built methods which provides a stable, light, fast and safe daysailer to spend your time on the water.
This carbon hybrid yacht is one of the fastest daysailers on the water. From behind the steering wheels, everything is at your control, all sheets, halyards and trimlines are running underdeck back to the helmsman position.
The family version of the Saffier Se 33 Life has four beds to stay overnight. The toilet is easily accessible for use day and night. In the galley, you are able to prepare breakfast, lunch or dinner. The special coffeebar gives you the opportunity to serve a perfect coffee wherever you are.
The saloon of the couple version is completely open with a lot of natural light from the iconic hull windows. When you step into the cabin you find all the comfort you need. There is a little coffee corner, a galley with running water and a closed toilet space, all situated in the aft of the saloon.
The superyacht finish in the interior gives you the feeling of stepping into a five-star hotel room. The Saffier SE33 Life has everything you need inside.





EUROPEAN YACHT OF THE YEAR
| | |
| --- | --- |
| Draft | 1.40/1.70/2.10 m |
| Ballast | 1,250 kg |
| Mainsail | 33 m² |
| Self-Tacking Jib | 23.5 m² |
| Genaker | 95 m² |
| Watertank | 60 L |
| Fueltank | 40 L |
The saffier 33 se life story
Chapter 1: Saffier Se 33 Life A new philosophy of high end daysailing
Chapter 2: Saffier Se 33 Life The most outstanding daysailer
Chapter 3: Saffier Se 33 Life All features and layouts explained
Chapter 4: The new Saffier Se 33 Life is alive
Join us at Carbon Yachts as we recount a memorable day on Pittwater with Joe and Bianca Aboard the Saffier SE 33 Life 'Azure'...
Join Mark Rothfield on Club Marine TV as he navigates the waters of Pittwater aboard the azure-hued Saffier SE 33 Life. An insightful video that takes viewers on a journey, showcasing the yacht's exceptional capabilities and luxurious design.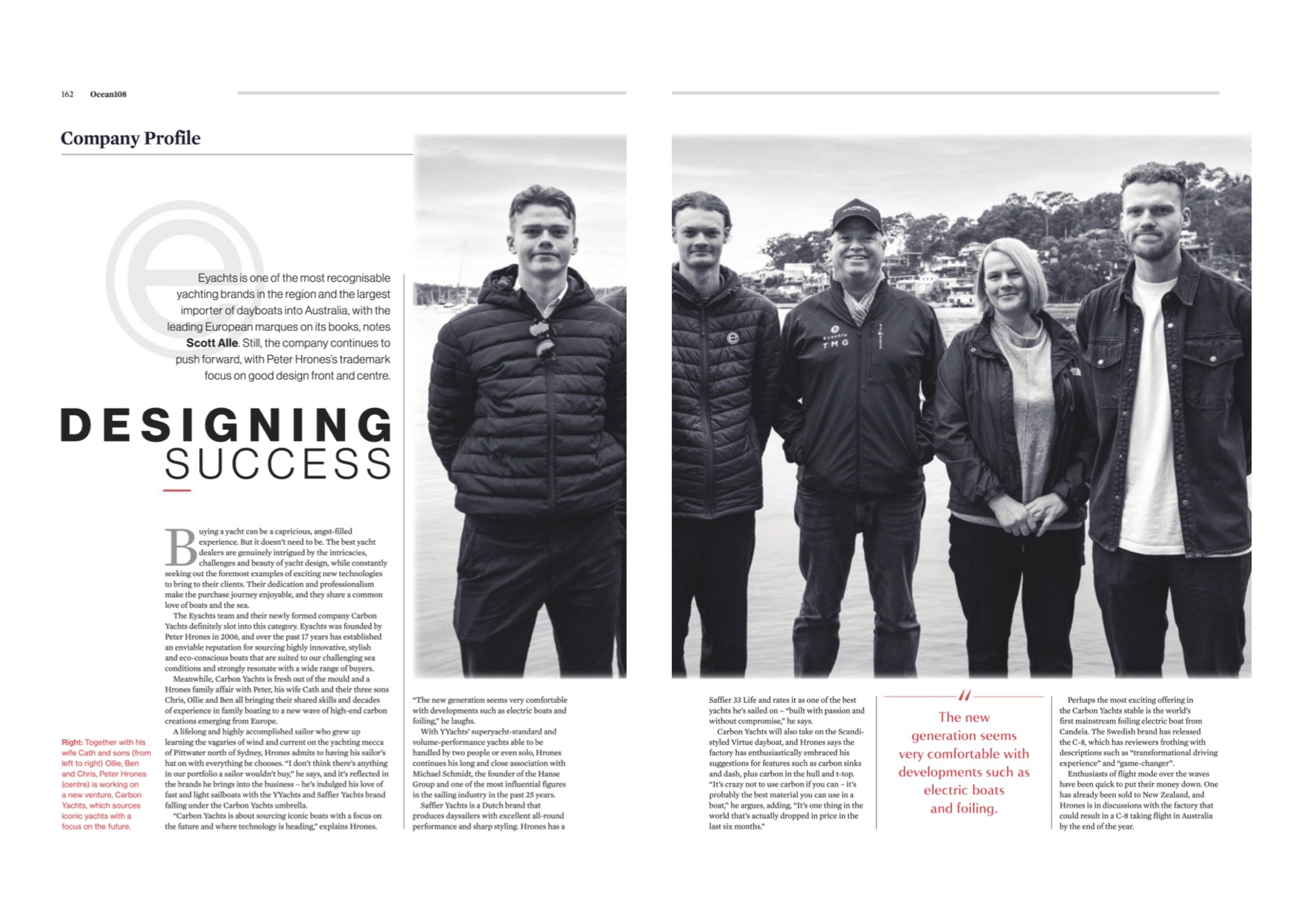 Ocean Magazine – September 2023
Together with his wife Cath and sons Chris, Ben and Ollie, Peter Hrones is working on a new venture, Carbon Yachts, which sources iconic yachts with a focus on the future.
Enquire Now
Leave your details and a member of our expert team will contact you shortly about Saffier Yachts.