Saffier SE 37 Lounge
A yacht that does not meet a standard, it sets the standard.
Everything you wish for and more
The Saffier Se 37 Lounge is a unique concept without compromise. The SE 37 combines great sailing potential with ease of handling.
The unique position of the helmsman at the front of the cockpit is one of the key-features in the Saffier Lounge concept. At the back of the cabin the helmsperson has a cockpit of his own. Here he/she is able to oversee the complete boat and has access to all the lines to trim and control the sails. Upwind the boat will get to hull speed in the blink of an eye. Downwind the bowsprit makes it possible to sail a huge Code 0 or gennaker of over 100 m². With those sails the Saffier SE 37 Lounge will reach speeds far above its hull speed – a sensational experience!
The cockpit itself is enormous and completely free of lines, it has become a real lounge place. Fitted out with comfortable seats and luxury cushions where your family and friends can enjoy sailing the best way possible. With just one button the large integrated cockpit table lifts out of the floor with seating for ten people.
Onboard the Saffier Se 37 Lounge there is no real border between 'outside' and 'inside'. Thanks to the wide cabin entrance and a minimal level difference the transition between outside and inside is completely fluid and natural. Because of the application of carbon the main bulkhead is unnecessary. Inside the cabin is open and light, with everything you need. There is a little coffee corner, a galley, the head, luxury seats, headroom and a huge double bed in the front.





EUROPEAN YACHT OF THE YEAR
| | |
| --- | --- |
| Draft | 2.10 m |
| Weight Keel | 2,050 kg |
| Mainsail | 43 m² |
| Self-Tacking Jib | 25 m² |
| Jib 108% | 33 m² |
| Genaker | 115 m² |
| Watertank | 110 L |
| Fueltank  | 60 L |
Join us at Carbon Yachts as we recount a memorable day on Pittwater with Joe and Bianca Aboard the Saffier SE 33 Life 'Azure'...
Join Mark Rothfield on Club Marine TV as he navigates the waters of Pittwater aboard the azure-hued Saffier SE 33 Life. An insightful video that takes viewers on a journey, showcasing the yacht's exceptional capabilities and luxurious design.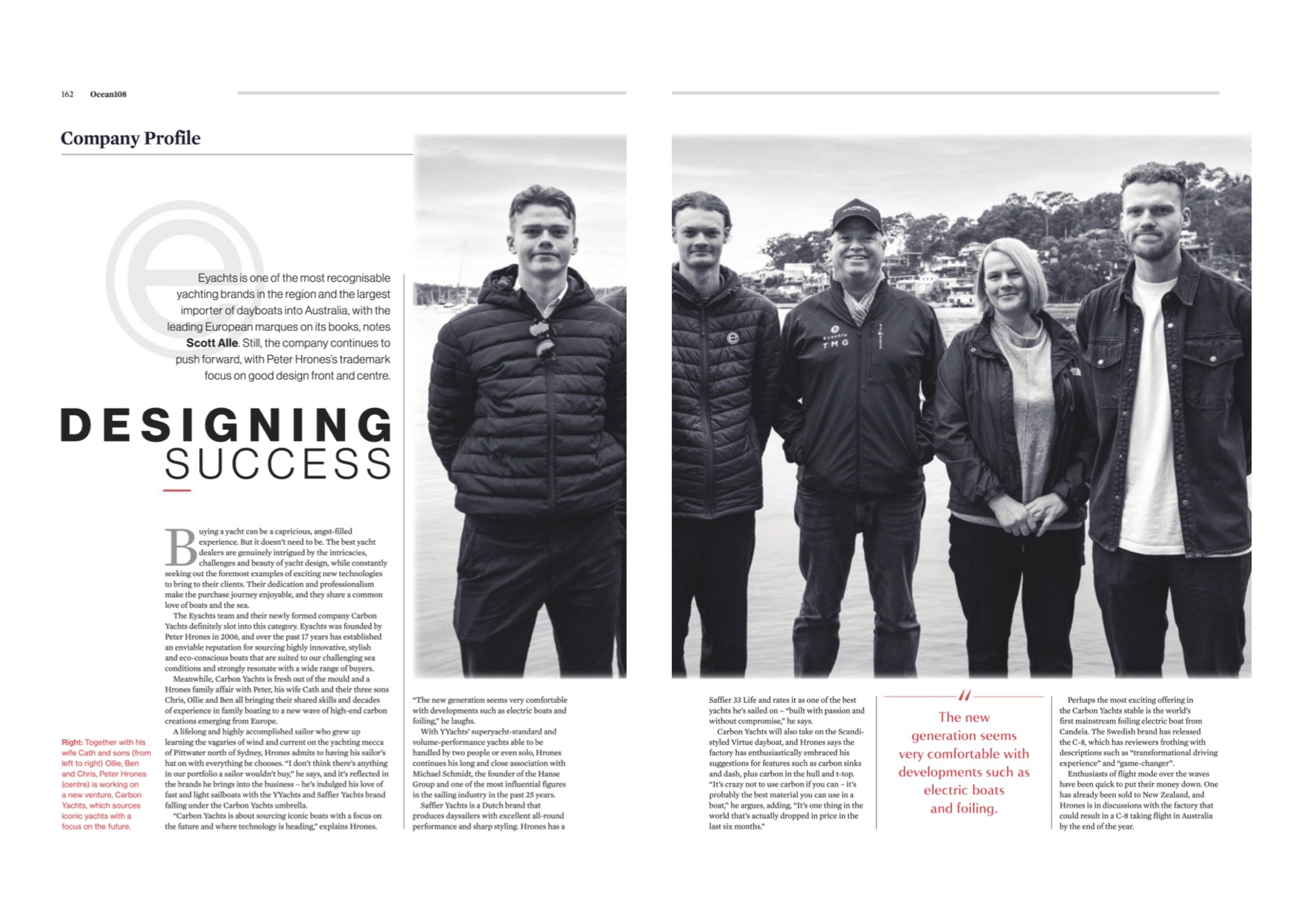 Ocean Magazine – September 2023
Together with his wife Cath and sons Chris, Ben and Ollie, Peter Hrones is working on a new venture, Carbon Yachts, which sources iconic yachts with a focus on the future.
Enquire Now
Leave your details and a member of our expert team will contact you shortly about Saffier Yachts.