Saffier SC 6.50 Cruise
Easy short-handed sailing or entertainer
The Modern Classic
The Saffier Sc 6.50 Cruise is a unique classic daysailer with state of the art modern technology while still keeping the beautiful classic hull lines intact. With the large cockpit it is possible to sail with 6 persons in comfort.
The hull is the key to her seaworthiness. With a new keel shape, and the centre of gravity lower in the keel, Saffiers design team was able to reduce the weight by 20% since the original model.
Along with the new rudder and new rig she has much more performance, especially going upwind. The rig has a large mainsail and a self-tacking jib. Furthermore, she can easily be fitted out with a furling code zero sail. This provides a very effective way of getting more sail area downwind or on a reach and the handling is as simple as a furling jib.
With the new deck and cockpit, there is much more space and the seating is much more comfortable; it is also very easy for one person to control and sail alone sitting at the helm, which is a real benefit.
The Saffier SC 6.50 has many hidden details, such as integrated cup holders and boxes to store your halyards and control lines.
The SE6.50 is appealing to a broad range of people who are looking for a simple-to-sail open yacht, with beautiful lines and all the comfort and performance you expect from a modern daysailer.




| | |
| --- | --- |
| Draft | 0.95 |
| Weight Keel | 400 kg |
| Mainsail | 13 m² |
| Self-Tacking Jib | 8 m² |
| Code Zero | 25 m² |
Join us at Carbon Yachts as we recount a memorable day on Pittwater with Joe and Bianca Aboard the Saffier SE 33 Life 'Azure'...
Join Mark Rothfield on Club Marine TV as he navigates the waters of Pittwater aboard the azure-hued Saffier SE 33 Life. An insightful video that takes viewers on a journey, showcasing the yacht's exceptional capabilities and luxurious design.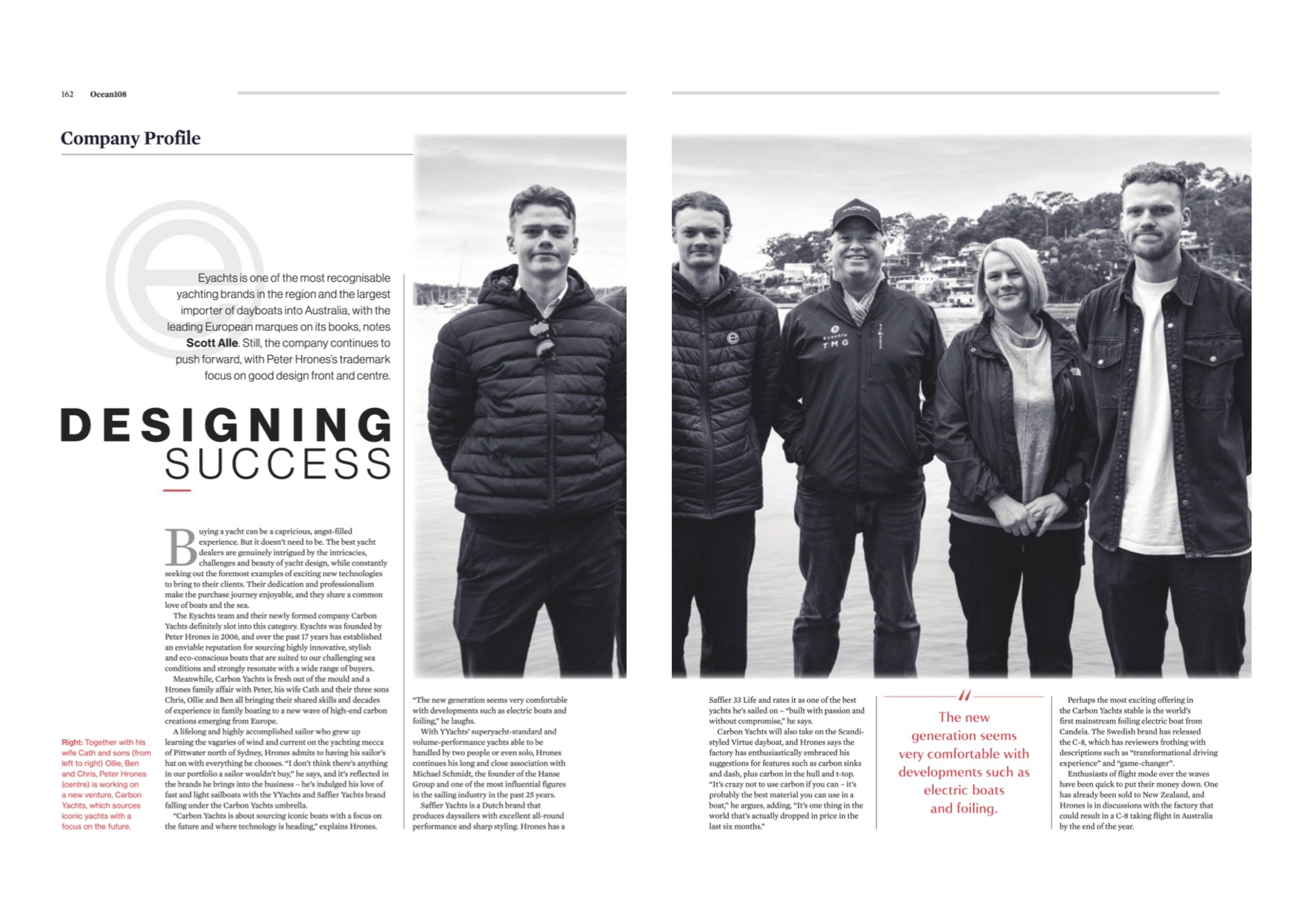 Ocean Magazine – September 2023
Together with his wife Cath and sons Chris, Ben and Ollie, Peter Hrones is working on a new venture, Carbon Yachts, which sources iconic yachts with a focus on the future.
Enquire Now
Leave your details and a member of our expert team will contact you shortly about Saffier Yachts.