Candela C-8 hard-top
Elevated Luxury, Protected from the Elements
Where Hydrofoiling Meets Ultimate Comfort and Protection
Introducing the Candela C8 Hard Top, a remarkable electric hydrofoiling yacht that combines cutting-edge technology with sleek design. Built upon the success of the Candela C8, the Hard Top version takes luxury and performance to new heights.
The Candela C8 Hard Top retains all the exceptional features that have made Candela a trailblazer in the marine industry. With its hydrofoil technology, the yacht effortlessly lifts above the water, reducing drag and maximizing efficiency. The result is an unrivaled experience of smooth and fast sailing, with reduced energy consumption and minimal environmental impact.
The Hard Top variant adds an extra layer of sophistication and comfort. The sleek and stylish hardtop roof provides shade and protection from the elements, ensuring an enjoyable experience in any weather condition. Its contemporary design complements the yacht's aesthetic appeal, giving it a modern and timeless look.
Inside the Candela C8 Hard Top, you'll find a spacious and luxurious cabin designed with utmost attention to detail. Premium materials and high-quality finishes create an ambiance of refined elegance, while comfortable seating and ample storage space cater to the needs of every passenger.
With its advanced electric propulsion system, the Candela C8 Hard Top offers a silent and emission-free cruising experience. Glide effortlessly through the water, enjoying the serenity of the surroundings without disturbing marine life or compromising on comfort.
Step aboard the Candela C8 Hard Top and embark on a journey of sustainable luxury. Experience the thrill of hydrofoiling technology combined with unmatched style and comfort. Discover a new era of yachting with the Candela C8 Hard Top, where innovation and elegance converge.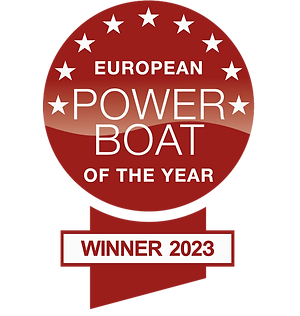 EUROPEAN boat OF THE YEAR 2023
| | | |
| --- | --- | --- |
|   | Draft (Foiling) | 0.50m |
|   | Draft (Off Foils) | 1.50m |
|   | Weight | 1600kg |
|   | Capacity | 8 Persons |
|   | Berths | 2 Persons |
|   | Classification | CE (C) |
|   | Hull Material | Carbon Fibre |
|   | Power | Polestar 2 – 69 KWh Battery |
|   | Propulsion | Patented C-POD |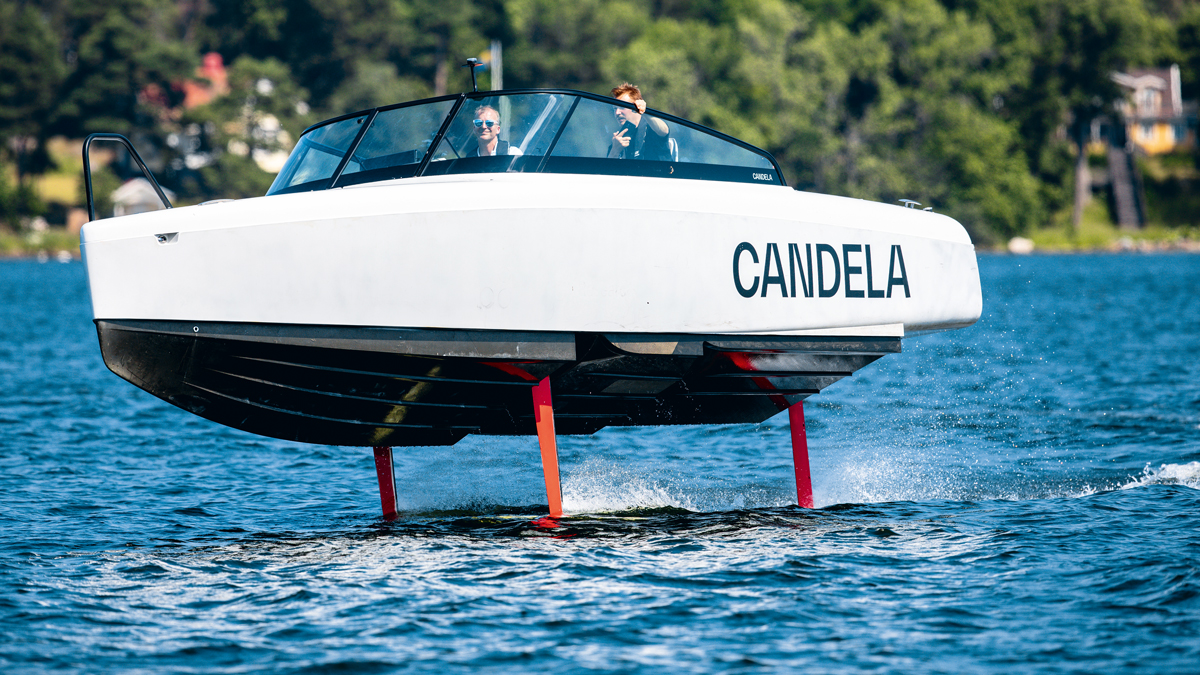 While most seek thrills in sports cars or new hobbies during their mid-life, Gustav Hasselskog, the founder of Candela, chose a different path. His journey from a management career to revolutionizing eco-friendly boating is not just inspiring but a testament to innovation and determination.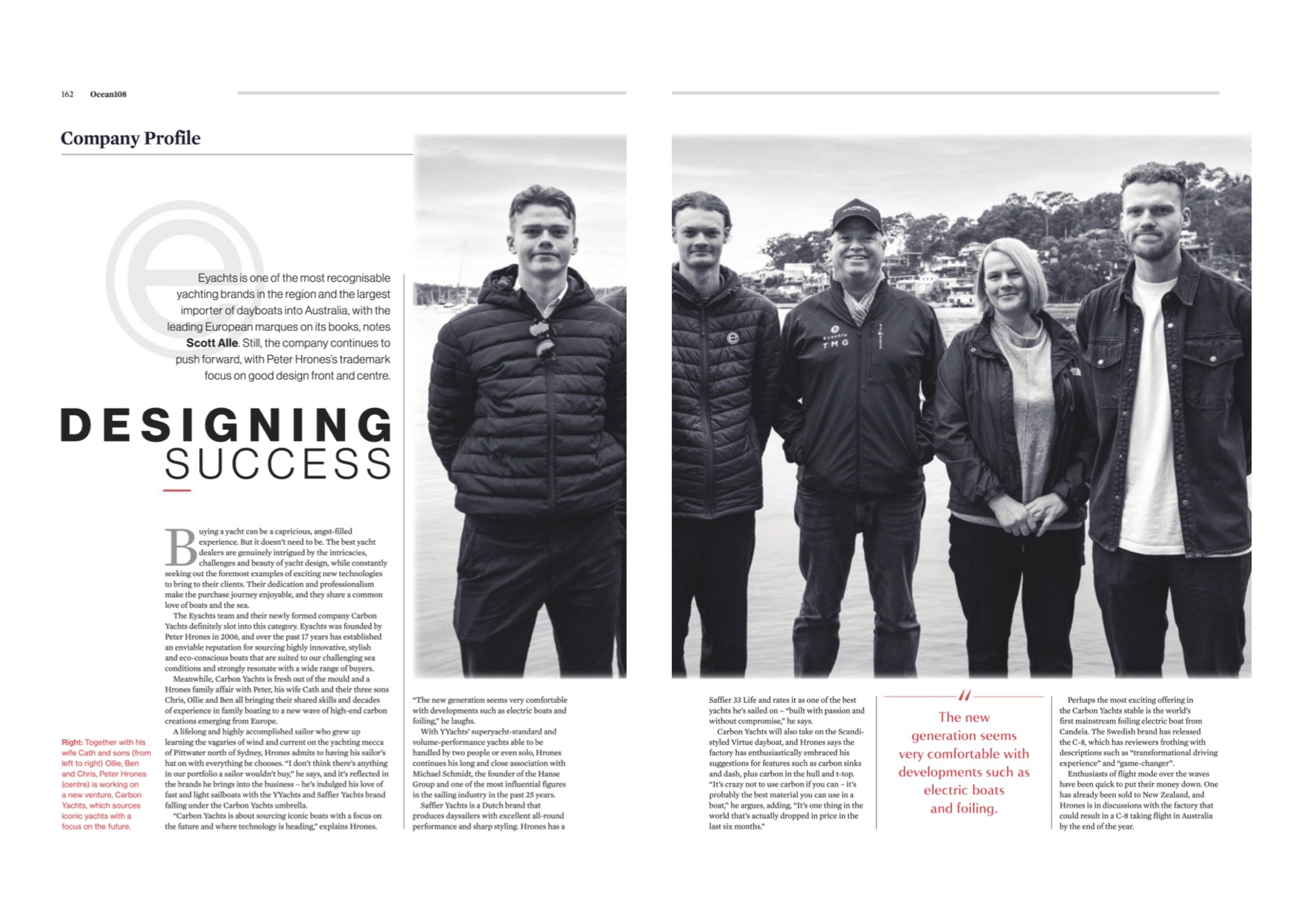 Ocean Magazine – September 2023
Together with his wife Cath and sons Chris, Ben and Ollie, Peter Hrones is working on a new venture, Carbon Yachts, which sources iconic yachts with a focus on the future.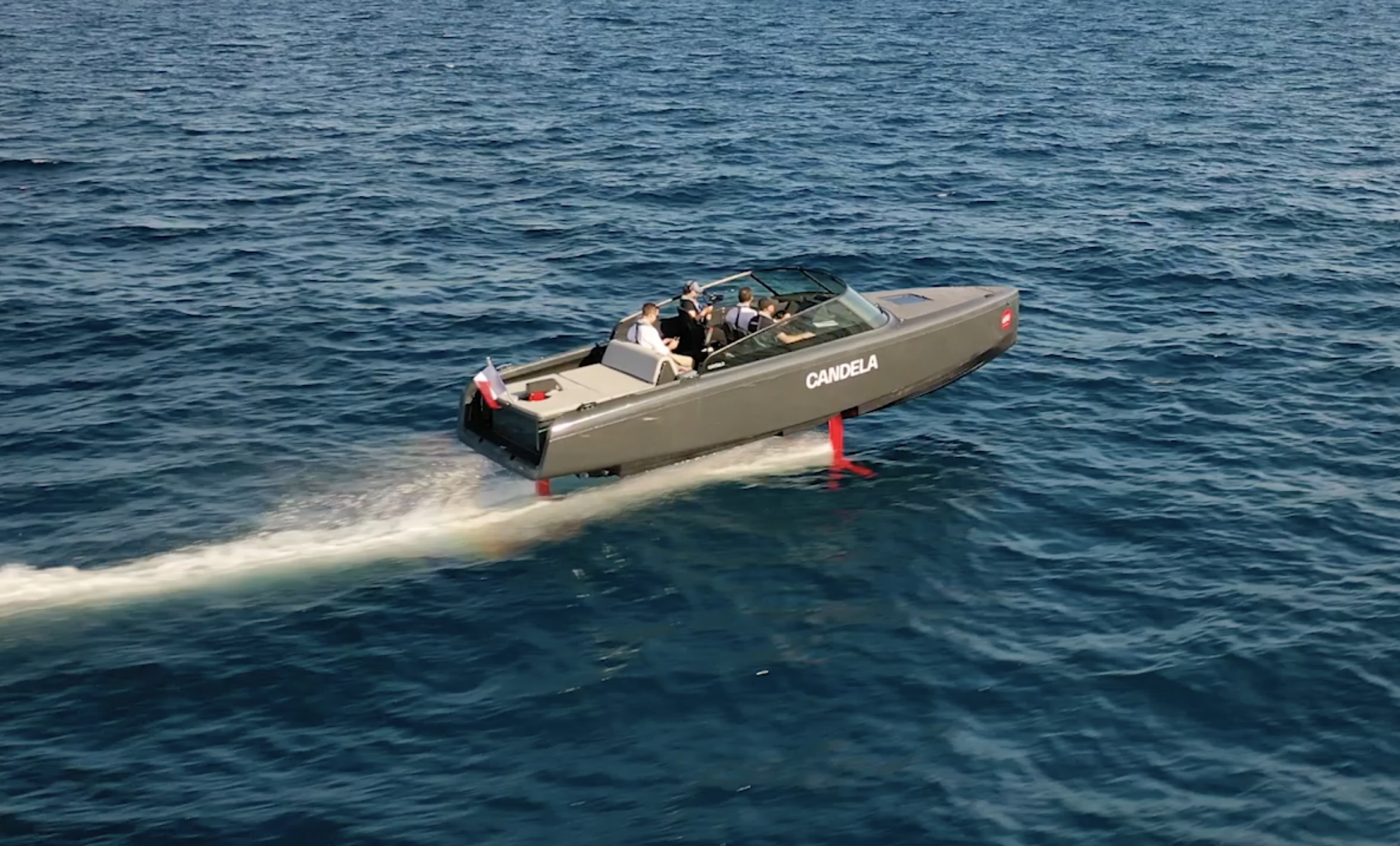 Joe and Rowan, bring you with them on an exclusive Candela C8 test flight at the 2023 Cannes Yachting Festival, where the electric marvel dazzles against the backdrop of Cannes' azure waters, the C8 not only demonstrates its elegance and prowess but also solidifies its status as the European Boat of the Year 2023.
Enquire Now
Leave your details and a member of our expert team will contact you shortly about Candela.