Saffier SE 27 Leisure
Designed with speed and safety in mind
The Perfect Day Sailer
Ultimate speed, high performance and striking looks is what the new Saffier Se 27 Leisure shows at first sight. Sailing in full control, singlehanded with all sheets and lines at your helm and double digits speed on your display. Combining speed and safety together with her striking looks make the Saffier Se 27 Leisure the perfect daysailer.
To achieve high speeds she has modern hull lines with good form stability. This is achieved with a flat underwater section in the hull and a 2.60m beam. Weight reduction is also important. Aside from building the hull and deck in sandwich and vacuumed she is, as standard, fitted out with a 4.0 kW Torqeedo engine with Lithium battery and folding prop. The complete electric propulsion is 70% lighter than a comparable diesel engine alone. The solid lead keel gives her a high righting moment and combining this with a powerful rig, the Saffier Se 27 Leisure is able to surf and stay in full plane downwind while pointing high and fast upwind.





EUROPEAN YACHT OF THE YEAR
| | |
| --- | --- |
| Draft | 1.40/1.60 m (race) |
| Weight Keel | 900 / 750 kg (race) |
| Mainsail | 24 m² |
| Self-Tacking Jib | 15 m² |
| Jib 108% | 18 m² |
| Genaker | 66 m² |
| Engine | 4.0 kW Torqeedo engine |
Join us at Carbon Yachts as we recount a memorable day on Pittwater with Joe and Bianca Aboard the Saffier SE 33 Life 'Azure'...
Join Mark Rothfield on Club Marine TV as he navigates the waters of Pittwater aboard the azure-hued Saffier SE 33 Life. An insightful video that takes viewers on a journey, showcasing the yacht's exceptional capabilities and luxurious design.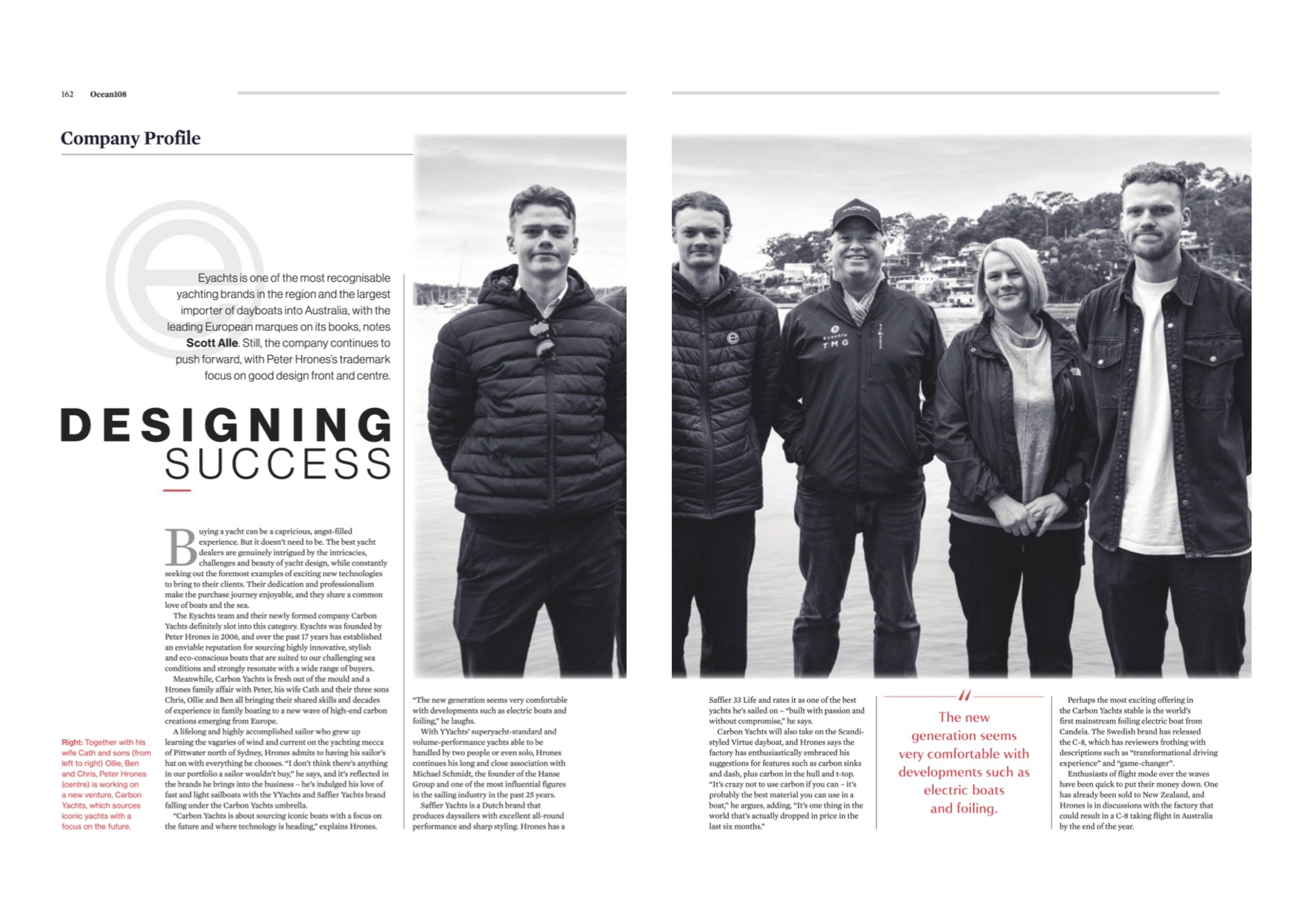 Ocean Magazine – September 2023
Together with his wife Cath and sons Chris, Ben and Ollie, Peter Hrones is working on a new venture, Carbon Yachts, which sources iconic yachts with a focus on the future.
Enquire Now
Leave your details and a member of our expert team will contact you shortly about Saffier Yachts.